Temporary Staffing (also known as Worker Dispatching, Contingent Staffing)
Temporary Staffing
(also known as Worker Dispatching or Contingent Staffing)
Talent with the required skills and experience is indispensable for driving business forward and helping companies grow. Temporary staffing is one of the main workforce solutions in providing you with the talent you need in a wide variety of objectives and scenarios: to provide work-ready staff, to secure staff with specialized skills, to fill sudden vacancies or to increase staff to handle heavy workload during busy periods. It can thereby contribute to increasing efficiency or reducing costs in various operations.

As the first temporary staffing services company in Japan, ManpowerGroup continues to provide dependable services though our nationwide coverage, resource quality, high matching accuracy, compliance-based ethos and insights in workforce solutions. Our temporary staffing solutions deliver the qualified people you need, when you need them.
For inquiries or requests regarding the workforce solutions provided by ManpowerGroup, please do not hesitate to get in touch with us.
Contact Us
Temporary Staffing Arrangement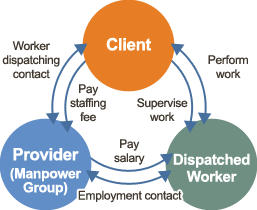 There are three parties involved in a temporary staffing arrangement: the labor provider such as ManpowerGroup (herein referred to as "Provider"); the workers to be dispatched (herein referred to as "Dispatched Worker"); and the labor user (herein referred to as "Client").

ManpowerGroup engages in a contract with the Client to provide Dispatched Workers having specified skills and experience for a limited period of time. In this case, the formal employer-employee relationship exists between the ManpowerGroup and the Dispatched Worker. However, the Dispatched Worker is typically assigned at the Client's place of business and works together with the Client's employees under the supervision of and at the direction of the Client.

Under this arrangement, ManpowerGroup will be handling the recruitment, employment, training, social insurance, payroll of and follow-up support for the Dispatched Workers which can help reduce your personnel management costs and burdens. By utilizing ManpowerGroup's temporary staffing service, you can avail of the talent you need, whenever necessary.
Work Categories for Temporary Staffing
Office / Clerical
General office work, English-related office work, international trade office work, sales support, general affairs / HR / legal, secretarial work, interpretation / translation, receptionist, public relations / advertising / IR, planning / marketing, OA (office automation) clerk, data entry
Sales / Retail / Customer Service
New business development, route sales, retail (fashion, jewelry, mobile phones), restaurant/hall staff, cashier, inventory staff
IT
System engineer, programmer, network engineer, operation management / maintenance, user support / helpdesk, testing / evaluation, CAD operator, CAD / design, instructor, web designer, DTP operator
Light work / Manufacturing / Logistics
Warehouse management, loading / unloading, line management, manufacturing staff (assembly / processing), packing / sorting / inspection
Medical
Medical office work, clinical trial, caregiver, nurse, pharmacist, clinical laboratory technician
*The rules regarding which types of services in the medical field can be performed under a temporary staffing arrangement are complex. Please contact us for details.
Guides of Temporary Staffing
ManpowerGroup Temporary Staffing Services
This company brochure provides a summary of ManpowerGroup's main business which is temporary staffing services.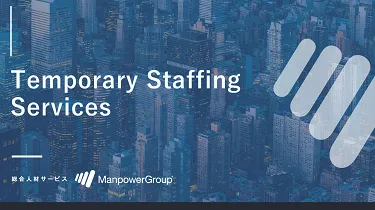 <Contents>
- Company Overview
- History
- Strengths
- Temporary Staffing Services
- Service Network in Japan
- Temporary Staffing
- Other Services
TEMPORARY STAFFING IN JAPAN (An Introductory Guide)
This is a guide about the system of temporary staffing service in Japan summarizing the laws, contract conclusions and usage flow in easy-to-understand manner.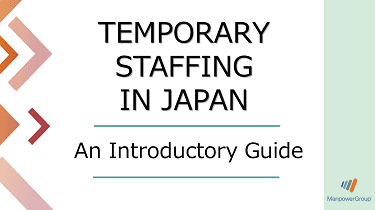 <Contents>
1. Overview of temporary staffing services
2. Temporary staffing process and matters to take note of
3. Conclusion of temporary staffing contract
4. Basic labor law knowledge required of client companies
5. Working with temporary staff: some tips
6. Q&A
7. ManpowerGroup's staffing services
【Download】TEMPORARY STAFFING IN JAPAN (An Introductory Guide)
ProAssign Service Guide
This is a guide about ProAssign, our temporary staffing service which focuses on providing highly-skilled middle-aged/senior professionals. We dispatch experienced professionals for cases such as launching of new projects, covering for managerial personnel on leave of absence and improving various business operations.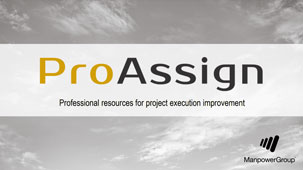 <Contents>
1. What is ProAssign?
2. Positioning of Pro-Assign
3. Examples of Utilization of Professional Staffing
4. Features of ProAssign Staff
5. Examples of Supported Areas
6. Process Until Start of Assignment
7. Examples of Assignments
Frequently Asked Questions (FAQ)
Q1
How does ManpowerGroup maintain protection of confidential information?
ManpowerGroup has a thorough system of protecting confidential information. We educate the Dispatched Workers about the importance of confidential information protection through the orientation conducted during registration and regular issuance of follow-up materials about this matter. In addition, as included in our basic temporary staffing agreement, we promise not to disclose any matters that the Dispatched Worker has come to know while working at the Client's place of business. In the unlikely event, we have a guarantee system through the liability insurance wherein our company is enrolled in.
Q2
Can we screen and interview the worker selected by ManpowerGroup?
The act of specifying (selecting) workers to be dispatched by the Client is prohibited under Article 26, paragraph 7 of the Worker Dispatching Act: "A person who intends to receive Worker Dispatching services (excluding Employment Placement Dispatching services) shall, in concluding a worker dispatch contract, endeavor not to commit any act intended to specify the workers to be dispatched under the Worker Dispatching arrangements based on the worker dispatch contract concerned."
Moreover, the act in which a Client specifies the worker to be dispatched can be equated with the recruitment selection of candidates that takes place for direct employment. In such a case, an employment relationship between the client and worker to be dispatched is practically established. As this differs from a worker dispatching arrangement and falls under a labor supply business by a worker dispatching agency which violates Article 44 of the Employment Security Act, the act of specifying the worker to be dispatched is prohibited.
Given the above points, the selection of the Dispatched Worker is a decision to be made by the Provider (ManpowerGroup) who is the employer of the Dispatched Worker. This means that while Clients can specify the required skills and experience required for work to be undertaken by a Dispatched Worker, they cannot screen and interview the Dispatched Worker.
However, since workers to be dispatched are not prohibited from selecting the Client where they wish to work, there is no problem in visiting the Client company to confirm the work contents and the workplace environment and receiving detailed explanation regarding the work contents. In such a case, the Client cannot conduct interviews or tests (which are acts of specification) to select workers to be dispatched.
* What are considered as acts of specifying of workers to be dispatched?
These are requests for disclosure of information not related to competence or ability, preliminary interview for screening, implementation of written examination, etc. In addition, the collection of personal information is prohibited in principle according to Article 5-4 of the Employment Security Law and Public Notice No. 141 of 1999. This includes domicile, address, family composition, academic qualifications, marital status, religion, beliefs and so on.
Q3
Is there a restriction on the dispatch period?
There is a duration limit which applies to each individual Dispatched Worker and Client organizational unit. The duration in which one Dispatched Worker can work in the same Client organizational unit is up to three years. Even if there is a change in the work content midway through, there is no change in this three-year limit if it is within the same organizational unit.
In addition, the duration in which the same Client organizational unit can use a Dispatched Worker is up to three years. In order to it to be possible to go beyond this limit, it is necessary to obtain opinions from the majority labor union of the Client or a representative of a majority of the employees of the Client. The duration limit per organizational unit takes precedence over the duration limit of the individual Dispatched Worker.
The duration limit does not apply to the following cases:
Dispatched Worker employed by Provider under an indefinite-term employment contract
Dispatched Workers who are 60 years of age or older
Work in fixed-term projects
Work with a period that limited to a fixed number of days (number of work days in a month is less than half compared to that of regular employees and less than ten days a month)
Substitute work for employees who are on maternity leave, childcare leave or family care leave
Q4
Can we ask for personal information about the Dispatched Worker?
In the guideline for Temporary Staffing services providers, there is provision regarding the protection of personal information of Temporary Staff. Information that can be submitted to Clients even after the Temporary Staff has been confirmed is limited to those related to the Temporary Staff's capabilities and submission of detailed personal information is prohibited. However, if there is a special need for such information that is related to the assigned work, ManpowerGroup will explain to purpose for the need of personal information and notify the Client after obtaining consent of the Temporary Staff.
Q5
Is there anything that we need to consider when taking in Dispatched Workers?
In addition to complying with the Worker Dispatch Law and other matters stipulated in other labor laws and regulations, other special arrangements for acceptance are not necessary. However, even in the case of experienced Dispatched Workers, it would be good to keep in mind that there are things that they may not know in an unfamiliar workplace. We therefore request you to explain the work environment, workplace practices and other matters in detail to the Dispatched Worker as you would do so to newly-hired employees to ensure a smooth working relationship.
Q6
Can we engage a former employee to work for us as a Dispatched Worker?
Under the Worker Dispatch Act, the Client is prohibited from engaging former employees as Dispatched Workers through a Provider for one year after their employment has been terminated. However, this restriction does not apply to former employees who have retired after reaching the mandatory retirement age.
Q7
What are the responsibilities of the Client and the Provider while the Dispatched Worker is working at the Client workplace?
The Client and Provider each have their own responsibilities in ensuring a stable working environment for the Dispatched Worker under this arrangement. Below is a summary.
Client
Supervise and instruct the Dispatched Worker on the work to be done within the scope specified in the contract.
Look after workplace safety and working conditions of the Dispatched Worker.
Cooperate with the Provider to resolve work-related issues in case such may arise during the course of the contract period.
Provider
(Employer of Dispatched Worker)
Calculate and pay Dispatched Worker's salary and handle contributions to workers' compensation, statutory welfare and benefit schemes.
Visit the workplace and check the working conditions of the Dispatched Worker to make sure there are no discrepancies with the contract contents.
Provide support to address work-related concerns and issues in a timely manner.
Q8
We want to renew the contract of the Dispatched Worker. What is the proper way to do this?
Please consult with the Provider which assigned the Dispatched Worker to you in case you want to renew the contract. As the employment contract in this arrangement is engaged between the Provider and the Temporary Staff, you cannot directly ask the Dispatched Worker if they want to renew. Confirmation of intention for renewal should be conducted at least 30 days before the current contract period expires.
Q9
Is it possible for us to terminate the worker dispatch contract before it expires?
If the Client terminates the worker dispatch contract before the end of the contract period for reasons attributable to the Client, both Client and Provider must take measures necessary for ensuring the employment security of the Dispatched Workers affected by the early termination of dispatch contract, such as trying to secure new employment opportunities for the Dispatched Workers concerned. In case this is not possible, the Client must compensate the Provider for the loss it will incur out of being obliged to make the affected Dispatched Worker be absent from work and to perform others as a result of the dispatch contract termination.
Q10
Is it possible for the Dispatched Worker to work overtime or work on weekends / holidays?
Temporary Staff can work outside of the statutory work hours as long as it is within the parameters specified in the Japan Labor Standards Act. Overtime hours are limited to 15 hours per week, 45 hours per month and 360 hours per year.
Please inform the Provider about any anticipated possibility of overtime work or work on weekends / holidays when you communicate your staffing request to the Provider so they can select the appropriate worker to be dispatched for the job.
For your reference, additional pay stipulated for overtime work, work on weekends / holidays is as follows:
Overtime (usually over 8 hours a day): additional 25%
Late night work (between 22:00 to 5:00): additional 25%
Work on weekends and holidays: additional 35%
Overtime exceeding 60 hours in a month: additional 50%
Q11
What is the payment arrangement and cost structure for Temporary Staffing?
The Provider will charge a staffing fee to the Client once the dispatching begins - no fees are charged before dispatching. This staffing fee is usually calculated by multiplying the hourly bill rate by the actual hours worked by the Dispatched Worker. The following are included in the staffing fee:
Salary to be paid to the Dispatched Worker
Statutory burdens such as

Employees' Pension Insurance
Health Insurance; Long-Term Care Insurance (for those 40 years of age or older)
Employment Insurance
Workers' Accident Compensation Insurance
Paid vacation

Others
*Note: Depending on specific circumstances and legislative amendments, the case may differ from what is described in this website. For details, please contact ManpowerGroup.
For inquiries or requests regarding the workforce solutions provided by ManpowerGroup, please do not hesitate to get in touch with us.
Contact Us