Compliance-Related Information on Temporary Staffing
Compliance-Related Information on Temporary Staffing
Employment laws and regulations in Japan, just like in other countries, generate a variety of compliance obligations for companies and other institutional employers. An aspect that can be particularly complicated for employers in Japan is the complex set of laws and regulations governing the supply and use of temporary workers. Below is a summary of some matters which we hope can contribute to your understanding about the regulations which apply to Temporary Staffing services in Japan.
*Note: Depending on specific circumstances and legislative amendments, the case may differ from what is described in this website. For details, please contact ManpowerGroup.
For inquiries or requests regarding the workforce solutions provided by ManpowerGroup, please do not hesitate to get in touch with us.
Contact Us
Worker Dispatch Act
The Act for Securing the Proper Operation of Worker Dispatching Undertakings and Improved Working Conditions for Dispatched Workers (generally called Worker Dispatch Act or Dispatch Law), in conjunction with the Employment Security Act, aims to ensure proper operation of the worker dispatching undertakings, as well as the protection, employment stability and promotion of the welfare of Dispatched Workers for the proper adjustment of the labor demand and supply.
Under this act, prohibited job categories, business licensing requirements, matters regarding conclusion of worker dispatch contract, measures to be taken by the Provider, measures to be taken by the Client, etc. are stipulated.
Amendments to the Worker Dispatch Act took effect on September 30, 2015.
Provision of Temporary Staffing service is prohibited in the following types of work
Port transportation services
Construction
Security services
Certain medical services
Lawyers, Social Insurance and Labor Consultants, certain labor-relations activities
Limitations on dispatch period
There is a duration limit which applies to the Client organizational unit and each Dispatched Worker, as per revisions in the Worker Dispatch Act were enacted in September 30, 2015.
Duration limit per Client organizational unit
The maximum duration of a Temporary Staffing assignment in the same department in the same Client is three years. In order for it to be possible to go beyond this limit, the Client must consult on this matter with the union representing majority of employees of the Client or a representative of a majority of the employees of the Client. (For one opinion hearing, possible extension period is up to three years).

Duration limit per Dispatched Worker
The maximum duration for which a Dispatched Worker can work in the same organizational unit for the same Client is three years.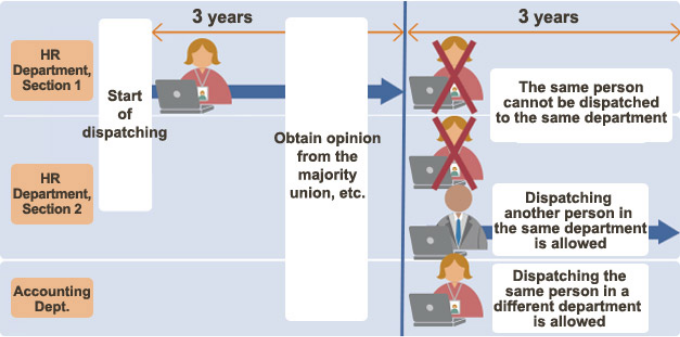 Cases exempted from the duration limit
The duration limit does not apply to the following cases:
The Dispatched Worker is employed by ManpowerGroup under an indefinite-term employment contract
Dispatched Workers who are 60 years or age or older
Work in fixed-term projects
Work with a period that is limited to a fixed number of days (number of work days in a month is less than half compared to that of regular employees and less than 10 days a month)
Work as a substitute for employees who are on maternity leave, childcare leave or family care leave
Deemed offer of direct employment
Clients shall be deemed to have offered direct employment contracts to Dispatched Workers in cases wherein Clients accept Dispatched Workers whose nature of dispatching is illegal in nature despite having awareness of such illegality. The following cases are considered as illegal dispatching:
When Dispatched Workers are engaged in prohibited work categories
When accepting Dispatched Workers from Providers who do not have the proper business license
When accepting Dispatched Workers beyond the period allowed for dispatching
In case of fraudulent outsourcing
Provision of recruitment information to workers
In the following cases, the Client must inform the dispatched worker about the recruitment information at their company:
Obligation to provide recruitment information for permanent positions
If a Client intends to recruit an employee at their workplace and if there is a Dispatched Worker who has been working continuously in the same workplace for one year or more, the client must notify the Dispatched Worker concerned of such vacancy.
Obligation to provide recruitment information
If the Client is recruiting for workers (not limited to permanent positions) who will work at their workplace, with regards to Dispatched Workers who are expected to continue to work in the same organizational unity for three years, as a measure of the Provider to promote the Dispatched Worker's employment stability, when there is a request for direct employment, the client must notify the dispatched worker concerned of such vacancy.
Restriction in engaging former employees under a Temporary Staffing arrangement
Under the Worker Dispatch Act, the Client is prohibited from engaging former employees as Dispatched Workers through a Provider for one year after their employment has been terminated. However, this restriction does not apply to former employees who have retired after reaching the mandatory retirement age.
Prohibition of day labor dispatching
In, principle, dispatching for day laborers (hiring of dispatched workers by the day or for a period not exceeding 30 days) is prohibited. However, this day labor dispatching is allowed for the following jobs and individuals.
Exempted job categories:

Information processing system development
Machinery design
Office equipment operation
Interpretation, translation or shorthand
Secretarial work
Filing work
Research, surveys
Finance / bookkeeping
Creating transaction documents
Product / service demonstration
Tour guide
Reception / information
Research and development
Business planning and development
Production and editing of books and other publications
Advertising design
Office equipment instruction
Sales activities by sales engineers, sales of financial products
Exempted individuals:

Individuals who are 60 years old and above
Daytime students (not subject to employment insurance)
Individuals who have an income of at least 5 million JPY from their main job and are doing the dispatch day job on the side
Individuals who are not main livelihood earner in the household and where the household income is at least 5 million JPY
Early termination of worker dispatch contract
If the Client terminates the worker dispatch contract before the end of the contract period for reasons attributable to the Client, both Client and Provider must take measures necessary for ensuring the employment security of the Dispatched Workers affected by the early termination of dispatch contract, such as trying to secure new employment opportunities for the Dispatched Workers concerned. In case this is not possible, the Client must compensate the Provider for the loss it will incur out of being obliged to make the affected Temporary Staff be absent from work and to perform others as a result of the dispatch contract termination.
Ensuring equitable treatment for dispatched workers
In order to balance the conditions for Dispatched Workers and the Client's direct employees engaged in the same type of work at the Client workplace, the Client must take concrete actions as follows:
Provide information on the salary level for employees engaged in the same type of work at the Client workplace to the Provider
In case Client conducts training related to the job, provide said training to the Dispatched Workers
Provide opportunities for Dispatched Workers to use welfare facilities used by the Client's own employees
Labor Contract Act
The purpose of the Labor Contract Act this Act is to contribute to achieving stability in individual labor relationships, while ensuring the protection of workers, through facilitating reasonable determination of or changes to working conditions, by providing for the principle of agreement, under which a labor contract shall be established or changed by agreement through voluntary negotiation between a worker and an employer, and other basic matters concerning labor contracts.
Amendments to the Labor Contract Act
Amendments to the Labor Contract Act were promulgated in August 10, 2012. Article 19 took effect on August 10, 2012 and Articles 18 and 20 came into force on April 1, 2013. These also apply to the employment contracts engaged between Temporary Staff and staffing Provider.
Summary of Amendments
1.Conversion to indefinite-term employment contracts (Article 18)
Fixed-term contract workers who are employed for a total of more than five years with the same employer are entitled to convert their employment contract into an indefinite-term employment contract upon request.
* Note: The calculation of the total contract period is applicable to fixed-term employment contracts that started from April 1, 2013. Fixed-term employment contracts that started before March 31, 2013 are not counted in the applicable total contract period.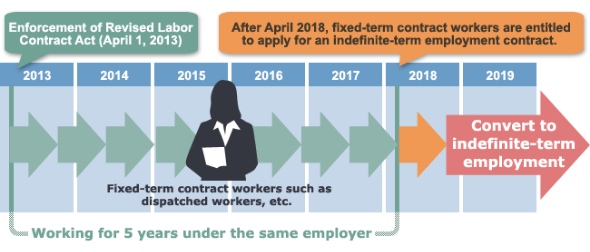 2.Adoption of the "Termination of Employment Doctrine" (Article 19)
In a fixed-term employment contract, employment will be terminated upon expiration of the contract period when the user refuses renewal of contract. This is called termination of employment. In relation to this, from the viewpoint of protecting workers, rules on judicial precedents (Termination of Employment Doctrine) which invalidate it in certain cases according to past cases of Supreme Court precedents has been established. This amendment of the law, without changing the contents and scope of Termination of Employment Doctrine has been incorporated into the Labor Contract Act.
3.Prohibition of Unreasonable Employment Conditions (Article 20)
Setting employment conditions on fixed-term contract employees unreasonably different from those of indefinite-term contract employees due to the fixed-term nature of employment of such employees is prohibited. This includes not only employment conditions such as wages and working hours but also all conditions for workers such as disaster compensation, company regulations, training, incidental obligations, welfare / benefits which are in the labor contract.
For inquiries or requests regarding the workforce solutions provided by ManpowerGroup, please do not hesitate to get in touch with us.
Contact Us